MsgMe WordGuess is one of two explorations done to create a social asynchronous mobile gaming experience using the new technologies of the iMessage Apps space.
Apple featured my two products with the iOS 10 Launch. With almost 1M downloads across both MsgMe WordGuess and MsgMe TicTacToe, large audiences played my high-quality iMessage games.

This project was — conceived and built in 6 weeks — to launch in time for Apple's iOS10 launch of iMessage Apps.
I worked side-by-side with the engineer to plan a timeline that allayed for pixel-pushing, user-testing and unplanned roadblocks.
Under the strict time constraints, I was able to:
- Create quick sketches of the flow that I ran by the engineer for tech constraints, (giving the engineer a head start to begin coding the general layout and interactions)
- Design low-fidelity mockups and synced with the engineer to begin implementing the basic color palettes and visual design
- Iterate based on feedback from first round user-testing
- Create high-fidelity mockups in Illustrator that served as pixel-perfect reference images as well as design of the App Icon
- Pushed final pre-launch beta version
- Iterated on final user-test feedback
- Finely audit the final implementation, tweaking lines of style code in Xcode that the engineer made "designer-friendly" to alleviate bottle-necking
- Create appropriate App store assets such as screenshots and social media / branding assets
- Submit to Apple for approval a week before planned launch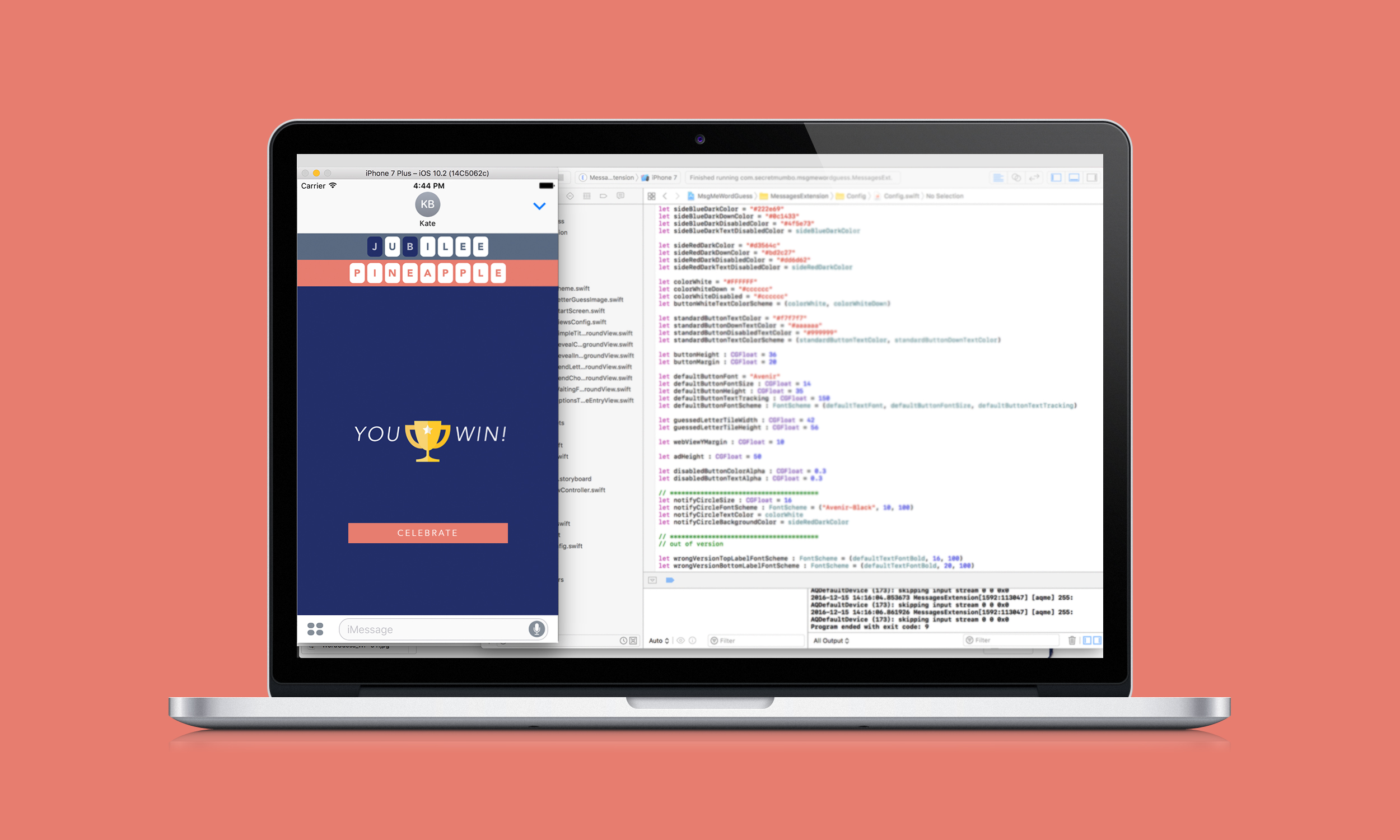 POST LAUNCH
- I focused on helping explore monetization in this new space by creating two theme packs for sale (OuterSpace and Autumn)
FINAL REFLECTIONS
Adapting my usual longer interaction design process to include visual design and branding in the timeline was a good exercise in prioritizing what is most necessary depending on the project. Also, as an iMessage App, one doesn't have the ability to constrain orientation, so making our design adaptable to include both portrait and landscape modes (including compact screen versions of each) on multiple iOS devices was another challenge that was fun to work with.